Replacement Toyota Keys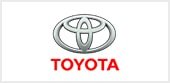 The steps commonly used to cut new Toyota keys tend to interrelate with those used to bring up Lexus car keys. However because we value time, we always sent technicians that are completely versed with the car type in question. Ideally, auto locksmith Toyota offers a mobile vehicle key service for Toyota automotive to both the general public and motor trades in Poole and to its environs.

Technology in Toyota car keys
Back then, Toyota cars were not fitted with an immobiliser box and did not necessitate the need of a transponder chip in the key. That made it easy and straightforward when performing key cutting and duplication. Toyota car made post 1995 depend on an immobiliser technology system that locks the engine when no transponder is sensed from the keys. 

Newer Model Toyotas
With new makes of Toyotas, programming of the keys is not done with a test. Instead, the keys go through hard coding to immobiliser unit or ECU. If you give a dealer to do this for you they can charge fees that equals to the value of your leg, or what you call being ask to pay over £1500 for Replacement Keys? Expensive, isn't it? But, our technicians will charge you over 70% less to the same job.
We will perform the services you need at your location in York, call us now!




01904 207006

info@autolocksmithyork.com